Stuck object in build mode… is there anyway to get rid of it without going into live mode?
Since the previous hospital that I was using was crashing my game, I decided to revamp another one to closely resemble it. The footprint on this lot is much smaller, so it's been kind of like a puzzle trying to fit it all together. I've had to take a short break though, because my wrist is severely cramped up from all the clicking!
The Nuclear Nest - rebuilt


(
Two more behind the cut...
Collapse
)
This was my project for the weekend. There's one dilemma I face every time I reinstall my game - I use my own version of the Kim family, but need their house. Now, the logical thing would have been to simply plunk it down somewhere and bin it without the family, but that would've made entirely too much sense. Nonono, I was determined to rebuild it myself from an empty lot. I had two small pictures to use for reference, and the rest I had to try to do from memory, so there may be a few inconsistencies. It was a fun challenge though, and now I have the house, should I need it again in the future.
Prior to this, I had left off after making my self sim in game, pondering whether or not I should make Jasper too. I finally decided to go ahead and do it, at least he can "live" again in my game with me. I had a little trouble trying to make the brown tabby fur, but I'm fairly pleased with the results.
A week ago I had to let my sweet kitty 'Jasper' go. We tried everything, but the cancer had progressed too far, and his system just couldn't hold on any longer. It was time. He went peacefully in my arms, with a smile on his face. He meant a great deal to me, and I miss him terribly.
allthingsimlish
over the holidays though, it was really unexpected and helped cheer me up during this difficult time. Some were left for you too. :)
I've made a few lame attempts at playing in between caring for my cat, but the game went idle each time before I could actually play, giving me that blocky screen that I posted about before. I sucessfully managed to go into it yesterday, and found that it was just as glitched as I had left it. *sigh* So... I downloaded everything I'll need to install the clean templates and start over. Now that I've settled into my new routine more, my desire to play and write has returned. Hopefully my next update will be a more positive one.
Sorry for my absence, my cat became very sick around Christmas, lost his eyesight, and has been unable to care for himself, requiring around the clock care, which hasn't left me with much time for sims. Any pocket of time is now reserved for sleeping, vet visits, and grocery trips. They think he may have cancer, and the protocol to treat this has been long and exhausting. I'd like to thank everyone for the nice comments on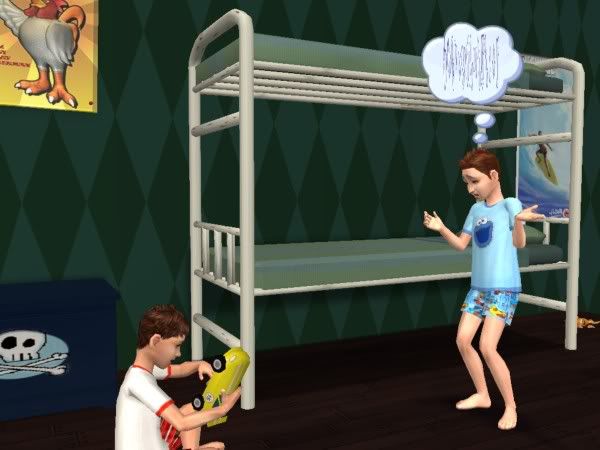 After struggling with free will issues, and Benjamin Baldwin dissappearing into
thin air every time he came home with Hadron after work (like if you teleport a
dead sim), I finally had the corrupt though/speach bubbles appear. I reloaded the
lot several times, and if it wasn't Seamus, it was someone else. I suspect Mr.
Baldwin may still be lurking somewhere, since it seems to be a routing bubble
related to the tiles in that particular location.
(
Restore or Reinstall...isn't that always the question?
Collapse
)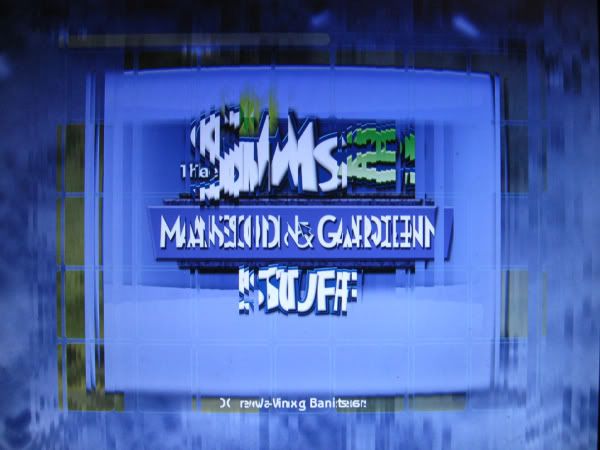 Please excuse the bad quality, old-school style screencaps, I didn't have Fraps loaded,
so I used my camera to take a few pictures of the monitor.
(
Hello LCD Monitor
Collapse
)
[ETA]
It's because my computer fell asleep while the game was loading, nothing detrimental. I'm a little concerned though, because I haven't had anything like this happen in years, and I needed a new graphics card then. Hey, if that's the case, they should at least be on sale this time of year. :P


May my DL folder never become that chaotic again! *cheers*
I managed to recover nearly all of my downloads and organize them; well, for the most part anyway. Sorting it out sucked, but I had over a gig's worth of duplicates hiding in there, so it was well worth the hassle. After I finished, I zipped that baby up, backed up my game files, and threw it all on the external hardrive. Whew...


I've been playing my families in rotation, thoroughly checking all the lots as I go. Something I neglected to do with the last install. It's funny how many commonly used items are missing, when I had a pretty sizable amount of cc backed up. A few late night downloading frenzies perhaps. Ridable chickens? Not quite sure what I was planning to do with those. :p

I've also been organizing my downloads, and removed hundreds of duplicate files, and who knows how many orphans. After I relocate a few items, I'm going to backup the entire game before progressing any further... and before I break something!!!
Does anyone know if it's ok to package/bin/upload a lot with the breakdancer mat included? My Googlefu doesn't seem to be working at the moment, and I'm a little worried.
The rebuild is going alright, slowly but surely. I've had a few instances of sims jumping and losing freewill, something I haven't seen since Seasons first came out. I've organized my downloads somewhat since, and removed anything that I hadn't used ongoingly. I found an old thread in which Numenor mentioned custom careers causing this bug, and how they can piggyback along with lots. I didn't download any custom careers, but decided to check anyway. Lo and behold, I had two of them in there, one being the Castaway entertainment career track. This makes perfect sense, because the glitching first arose after I got two sims jobs in the entertainment field. It could be coincidental, but I hope that fixes it. Another thought, is that it might have something to do with the quad core processor, which the game was not designed for.


I saved anything that was pertinent to my story, however, I did NOT save the game files. The machine was running so poorly, that it estimated a time of over two hours for the backup, and the computer prior to this got hit with a virus; all my long played games are dust. I'm always leery of saving existing bugs and glitches anyway. Now, I get to put my hood back together as it once was, and play like mad to get everyone caught up to their correct life stages, as well as any life changing events. Oh, and SimPE their genetics so they're not homogeneous. After all that's been taken care of, I can finally sit back and play. I'm really looking forward to this part!

I also have several male sims with the dreaded "RSL-browcombed_puregreenm.package" attached. Does anyone know of a fix for this? I previously deselected it with Clean Installer on my last game, but my hood was already so borked, that I honestly couldn't tell if it had worked or not. It never reappered in my downloads though.
I reinstalled TS2 last night. All went pretty smoothly until I got to the Holiday pack, then I got a popup saying that it might not have installed correctly. I hit "retry" and it went through, so I hope that worked, or is just a wacky Win 7 thing. I certainly hope I don't have to redo that all over again. *crossing fingers*